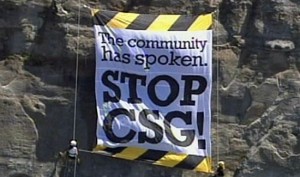 In a ridiculous display of rubber-stamping behaviour we come to expect of the current NSW Government, the Office of Coal Seam Gas (can you believe we need to have an entire section of government for this?) has put the cart before the horse, giving the green light to AGL to start fracking, despite all the safety checks being completed.
All that was provided to the Office from AGL was a list of the chemicals being used, and in its haste to not keep its AGL mates waiting, the government signed off on the fracking process, despite being required to have lab tests confirm if the chemicals, and their quantities, were safe for human health and the environment.
This has of course happened against a background of rough-handling of protesters of the industry, who armed with information from many CSG gas fields around the world, are concerned for what will happen to the water, the communities and the environment after the short-term profit from the energy producers fades.
This is completely irresponsible behaviour and it is no wonder why it is not hard at all to think of this government and energy provider as morally bankrupt!
More via SMH: http://www.smh.com.au/nsw/csg-protest-gets-ugly-as-agl-starts-fracking-20141028-11cuoq.html