'Coming out' as HIV+
On World AIDS Day, I was inspired by a number of people, who via social media, 'came out' to their friends – and I decided to do the same.
So on December 1st this year, I too announced on social media that back in 2001, just over a year after arriving in Sydney, I became HIV+.
While educated in safe sex back in my home town of Perth, I made some stupid choices "in the heat of the moment", and as they say, the rest is history.
Yes, I have a good idea of whom I acquired HIV from, but I definitely have no ill feelings towards them.
At the time, the safest form of penetrative sex was with a condom and the failure to use one was mine.
In 2001, I had immediately started HIV retroviral treatment, including taking part in some medical trials over the following years, and very quickly lowered my virus blood count down to 'undetectable' levels.
For a number of years I kept my positive HIV status to a select few people.
After a while, I became confident enough to speak about it with my family. I knew that it could be difficult for them to hear.
My brother and my father were very supportive, and that had been a huge relief for me. Unfortunately my sister, after hearing the news, abused my trust, sharing this information with my homophobic mother. I then quickly rece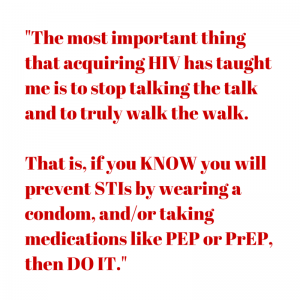 ived messages on my phone from my mother wishing that I die a long and horrible death from AIDS.
So with a fractured response by an equally fractured family, I guess I just didn't feel there was much more to gain from being any more open than I needed to be.
But this story isn't a negative one (no pun intended).
The most important thing that acquiring HIV has taught me is to stop talking the talk and to truly walk the walk.
That is, if you KNOW you will prevent STIs by wearing a condom, and/or taking medications like PEP or PrEP, then DO IT.
I have taken that general concept and apply it to my passions in life – politics, climate change/environmental policy, human & animal rights.
Imagine if we all actually (and honestly) did that with our lives?! What a different world we would be living in right now!
In the end, as odd as it sounds, coming to Sydney and acquiring HIV has, in many ways, been the best thing that's ever happened to me.
I have a clearer focus in my life and what I want to achieve. I have a loving partner and puppies. I have a wonderful and supportive group of friends and colleagues.
What more could I ask for?
Over the last 2 weeks or so since I opened up about my HIV status, people have called me brave and courageous. It's lovely to hear, but I feel that I am just a product of those that have come before me.
Those who are really brave and courageous are those who had the courage and bravery to be open about their HIV status, way back from a time when doing so meant isolation, fear, violence, and death.
Brave and courageous are those that buried their friends, family, lovers and partners.
Brave and courageous are those that helped treat people with HIV and AIDS, despite what little was known about the HIV virus and its risks at the time.
Over decades there are many, many people, both HIV+ and HIV-, who have since created a relatively safe environment here in Australia with which I could just simply decide to 'come out',  as I did 2 weeks ago.
Its those people I think of every World AIDS Day in remembrance and with thanks.
Its those people, including the millions of HIV+ people all around the world who don't have access to life-saving HIV medication, and the millions that have died since the epidemic rose in the 80's, who are always in my thoughts, every time I think of the words HIV and AIDS.
The stigma associated with HIV & AIDS still surrounds us, in various forms and in various degrees, but we can all do better to reduce it for the sake of others.
Please join me and help continue the fight to end stigma for those living with HIV.
Many thanks for your support.
Dejay